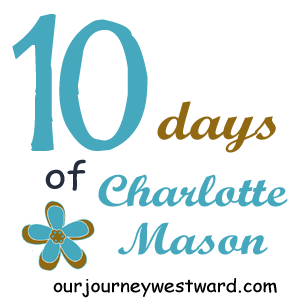 I sometimes have a hard time explaining our homeschooling method, the Charlotte Mason philosophy, to people who are interested in how we teach our children. I say it's a philosophy because it's not a curriculum but a way of life.
Cindy, at
www.ourjourneywestward.com
is hosting
Ten Days of Charlotte Mason
, sponsored by Heart of the Matter's blog hop. She is doing a wonderful job of explaining the intricacies of the Charlotte Mason method and explaining key points of the method such as narration, living books, copy work, artists and composers and nature study. So if you can, join us for a great discussion!